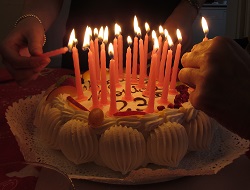 by Jason Smith
President, Founder, Four Quadrants Advisory
My family knows better than to ever throw a surprise birthday party for me. I don't like surprises and I don't like the unexpected. I tend to arrive early to appointments, I over-prepare for most things, and I want to know what I'm getting into with everything I take on. Imagine you walked into your kitchen on a cool, winter evening after work and surprise! – your friends and family are there to greet you. Instead of a cake with candles on it, though, there's a slightly different surprise waiting for you. A great big surprise tax bill.
You can't put candles to this one, as much as you might like to. "Good news! Your dental practice revenues are up and overhead is steady or down. Bad news, though. We didn't make tax adjustments along the way. Surprise!"
I'm sure most dentists don't like surprises any more than I do, so we thought we'd share a simple technique that our clients and our CPA partners appreciate. A lot of CPAs specializing in dentistry stay on top of this, but frankly most don't. Each fiscal quarter, we analyze a combination of revenue growth and overhead to determine which clients are likely to need tax withholding adjustments. For example, for those clients with revenue up and overhead down for the quarter by a combination of 10% on the upside, we'll notify their CPA to make adjustments as necessary.
This has actually been an interesting barometer for the health of our clients' practices across the board. In the third quarter of 2009, for example, we only had 15 clients that required withholding adjustments. The next year we had 28. We took this to be an indicator that we might be coming out of the deepest of the economic doldrums of 2010, particularly after looking at December numbers for most.
Read our guide: Dental Accounting 101
Our CPA partners like the added eyeballs on the P&L and appreciate having a second line of defense. This technique is one of many that make it a lot easier to save what is necessary to satisfy a well-crafted financial plan. A combination of really good analytics and communication between your advisors can keep your planning smooth. If all your advisors aren't working together to champion great cash flow and savings, it's tough to stay on goal.
Does this technique reduce your overall tax burden? No. Does it add anything to your retirement nest egg? Not really. Will it prevent you from clutching your chest from shock when you stumble into your "end-of-the-year Tax Surprise Party"? No doubt about it.