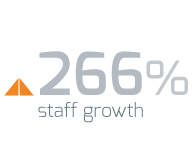 Four Quadrants Advisory has undergone a lot of changes recently, and all for the better. In the last two years, we've grown from a staff of three to eight full-time professionals filling roles from prospecting and sales to accounting to strategy and management. And with our growing team, we now have more and more hours to put into helping our clients grow their practices and build the retirement they dream of.

It's not just that we have more employees at our disposal. We're bringing in people with experience – people who have spent years and years working in finance, building up businesses and dental practices to be stronger, bigger, more profitable, and more efficiently-run.

That includes people like:

Kathy Collins, CPA

Bryce Woodyard, CPA

Mathew Ryan, Financial Planner and Analyst

Brian Wilson, Sales

Jason Wager, Sales

Ryan McLaughlin, Accountant

We've always been confident in our ability to help successful dentists turn their practices into wealth-building machines. We've always been confident that our advice will lead dentists to be able to retire earlier and more comfortably than they could otherwise. We've always been confident that we can help dentists transition their practices to their successors, while preserving their legacies and helping them profit.

But we've never been in a better position to do all that than right now. We've never done it better. And we're certainly not finished growing. We're excited about today, and even more excited about tomorrow. If you think you and your practice are ready to take the next step, let us know. Because we are.