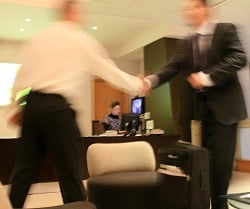 Last week I talked about the preparation that needs to be done before hiring an associate to make sure your partnership works out. After all, 75% of them end up failing, so it looks like dentists need some help. Once you've made the hire, though, the work isn't over. You need to plan for what happens after the hire is made and the buy-in is triggered, and you need a plan for what happens when you're ready to call it a career.
You'll be coexisting with your new partner hopefully for several years at least, before you ride off into the sunset. Your practice will not function in the same way it did when you were the only executive in charge. You'll have to work together to make things work. Communication is key, and regular management meetings are a necessity.
Decisions must be made about how decisions will be made when you're working as partners. How will you develop strategy as a team? Who decides when new equipment is needed, what equipment you should buy, and how? What will your schedules be – will you work together, or trade off shifts? What happens if one of you wants to run a personal expense through the practice but the other partner does not? You need answers to these questions before the situations come up.
Another thing that's helpful is finding a new corporate accountant. This should be someone who hasn't worked with either you or your new associate before – any accountant who's associated with either of you might have more loyalty to one than to the other, and because of that, one of you will be favored. That's a bad way to start out a partnership.
And since that partnership won't last forever, you need to plan for how you'll dissolve it once you're ready to retire. Phasing out slowly is the best option for all involved – it helps your long-time patients get comfortable with your partner and with the idea of you leaving, your partner gets to ease into being totally in charge, and you don't have to give up working all at once.
Any plan should be focused on making sure that you don't have to stop working before you're ready. You created this practice and it's your life's work – it's yours as long as you want it, and as long as you're an asset rather than a liability. But at some point, your 50% stake will need to be passed on to your associate. The deal should be fair and also flexible. It benefits all parties involved.
Whatever happens, don't fall into the trap of thinking there's one right answer that works for everyone. The only right transition is a custom transition. Your situation is unique, and so is your associate's. Your plan needs to reflect that, and serve the unique individual needs that each of you have.