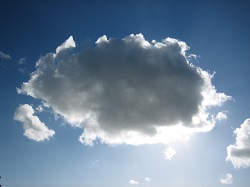 Have you heard of cloud computing? Have you checked your credit card or bank account balance online? Do you have an iPhone? Do you use iTunes, Gmail, Facebook, or Netflix? Have you used Dropbox or some other file sharing company to move and store important information? Maybe you've read articles in the latest dental journals about cutting-edge dental software like our friends at Curve Dental. If so, you are a veteran cloud user and may not even know it.
Clouding QuickBooks is the future of dental accounting. Do you get frustrated by sending a backup copy of QuickBooks to your accountant, only to receive untimely feedback two or three months later? We call that "driving while looking in the rear-view mirror." That archaic process doesn't allow you to have real-time financial data on your dental practice and it prevents you from making positive changes quickly enough. Constant tweaks are essential to becoming more profitable without producing more. That is exactly why clouding QuickBooks is so important. It enables you and your accountant to work in your QuickBooks file at the same time, obtaining real-time data and making real-time changes in your dental business.
Analyzing deep swings in variable expense, like lab fees, is another good reason for clouding. With the dentist and their CPA/advisor accessing the bookkeeping in real time by logging into through the cloud, you can achieve fast and accurate reconciliation of profit/loss and balance sheets. Because you also scan all your lab invoices to the clouded server, your advisors can look at the invoice level and help determine the reason for increases and offer some analysis to consider, rather than having to settle for speculation. Technology allows for fast reconciliation which leads to more accurate and timely advisement on how to improve the business.
Another great reason for clouding is accounting security. Did you know that three out of five dentists experience some type of fraud in their practice? Removing check writing capabilities from your office server is one way to prevent unauthorized use of your practice funds. Years ago, I discovered that an office manager was maintaining two sets of QuickBooks files on the office server. One file was there to print fraudulent checks while the other was to record fake payments. This fraud risk is removed when the check writing authority is removed from the practice and put in the cloud.
Only authorized users are allowed access to the ultra-secure cloud partner, Right Networks, a Thompson Reuters product. Furthermore, we can limit their access to QuickBooks functions with the available security features. For example, you can customize it so an office manager can only enter bills when they are due. This allows you to match statements and invoices to bills entered and pay them directly from QuickBooks – very efficiently. Or you might want to manage the bills yourself. Either way, we can set appropriate security levels.
The future is cloudy, but we think cloudy is bright. Are you ready?