The insights practice management firms provide can do a lot of good for your dental practice. But that doesn't mean that it's right for everything, or that it's a perfect fix for your issues. Think of a laser versus a bur. Using the wrong instrument in the wrong situation can lead to disastrous results.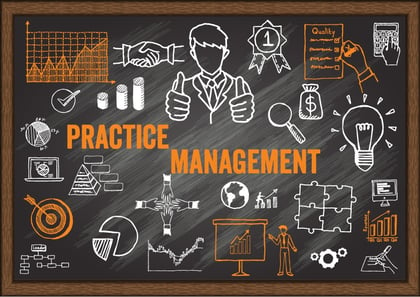 We've worked with hundreds of different clients and analyzed the practices of hundreds more. Dental practice problems can be separated into two very broad categories: Procedural (require small adjustments) and Philosophical (require major changes in the approach to one's practice).
For instance, if your hygiene department is not as efficient as they need to be, that's a procedural problem that can be corrected and avoided by implementing new policies and procedures. This would be a great assignment for a practice management firm to work their magic.
But if you're not producing enough, or you have ebbs and flows with your cash flow, sending in a team of practice management experts to do the work of an accountant or someone with an MBA will only lead to frustration. And if they recommend to "just work harder so you can produce more," that will not fix your cashflow issues.
It's important to note that we are not a practice management firm. In fact, we refer clients to them on a pretty regular basis because they can help in certain procedural circumstances where fixing a very specific problem in a very well-defined area.
If they chart a successful path to Hygiene Department efficiency that's great! But it doesn't mean they should help you chart out new paths to profitability by "investing in a CEREC machine" if it doesn't fit your business model.
Expanding the procedures you offer with a fancy machine may sound like a great idea, but was the Return on Investment figure that won you over calculated generically or with your practice in mind? Did they provide data on how your cash flow will be impacted while your staff undergoes all of the training you will need to run it? Do they even have a handle on your cash flow for the next six months? Do they know? Do you?
What if the recommendation was to retain another Dentist? Have the expenses of adding and retaining another dentist — and the impact on cash flow — been considered? How much do you pay the other dentist, and can you do it without jeopardizing your own income? What happens if you put it off for six months? Do you have anyone intimately familiar enough with your overall financial situation to help you make that call?
Any major decision that you make has to be linked to all the different sectors of your finances. A decision made without at least two to three correlations made between your practice cash flow, your practice debt structure, your personal cash flow, and your retirement can become a misplaced business decision. And too many of those decisions can ruin your retirement or even your practice.
Good practice management firms want to help you fix problems and will be among the first to recommend working with someone else when they see you need a healthier approach to complex tax issues or to reduce your inflates overhead.
If you feel like you're on your own island — afraid to take action in any one direction — you're actually not alone. Practice management might be the first section of the bridge off the island, or it may not be needed at all. You won't know until your overall practice is evaluated honestly.
If you have questions about whether practice management, or something longer term, is right for you, contact us today to discuss your concerns and possible strategies.
We've also developed a quick, easy (and free), questionnaire designed to give you valuable insights into the current health of your practice. Click here to take it today!