By Brogan Baxter,
CFO Four Quadrants Advisory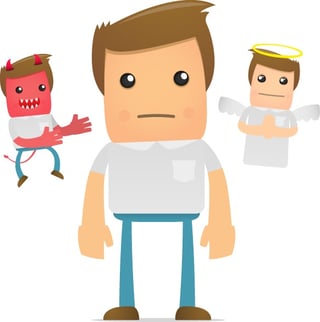 Today the word "debt" might as well be synonymous with "curious lesion" or "felony."
And carrying it with you has been demonized by the media and financial gurus for two decades now.
As you have heard it and had it taught to you, getting rid of debt is supposedly the universal key to financial freedom. It may seem obvious that if you're in debt, you should pay it off as soon as possible.
Dentists especially take on a lot of it because they need expensive equipment and offices to house their practice. Let's not forget about the 6-figure student loan debt as well.
It's all of these reasons why Dentistry is one of the most capital-intensive businesses to start in the world. But paying down debt as feverishly as possible can get your practice in a lot of trouble. Debt has become more than a pool of money on the wrong side of the balance sheet - it's an emotional burden you've allowed to seep into more of your lives than it deserves. There's a battle between emotion and logic when facing it down.
But Four Quadrants believes some debt is not only OK, but necessary, to building a healthy practice and retirement. Take that in for a moment . . . debt can be a good thing. We understand putting that mindset in motion is tough and goes against all you've been taught previously. Debt is sitting in the seat next to you, while retirement savings seems a long way off.
So what makes some debt "good and some "bad?" We classify the kind of debt on your books as simply "good" if it's a loan to buy a new piece of equipment for your practice, or your mortgage. An example of bad debt is a high-interest credit card.
Therefore, if you have a lot of bad debt, it should be eliminated. The good debt can be managed gradually. In terms of taking on new debt it's important to ask: "Why am I putting the practice into debt?" Is this purchase a need or a want?" So if it's for something that will help your practice AND can be measured to and proven to make you be more productive, that's a good move. But if you're just living outside your means, it's time to pull back on the financial reins and practice a little more fiscal responsibility.
When deciding whether to invest in something or pay down your debt, think about the "opportunity cost." If you use the money on one item, think carefully about what you won't be spending it on. You should strike a balance between debt and savings, but your current situation may require you to lean more toward one or the other. We'll even go as far as saying that for a dentist to be a multi-millionaire, you must strike a good balance between both.
Despite all the talk about imminent Interest rate hikes -- they still remain the lowest they've ever been -- and probably the lowest they will ever be in your lifetime. As a matter of fact, now is actually the best time in the history of financial lending to be in debt. Low rates mean that your practice debt compounds less than it would with higher rates, and the interest is tax deductible anyway.
So if you don't use cash to pay off debt today, use it as a down-payment for your financial independence when you're over 65. An intelligent capital preservation strategy is critical as well – that is, to focus on saving more and taking less risk with that money in the market. If you don't invest in your future now, you'll have a lot of catching up to do as your retirement age draws closer.
So how do you begin? It's as easy as 1-2-3:
Pay off bad debt first.
Save money and invest it in your retirement now with a laser-like focus on saving six-figures EACH YEAR for retirement.
Once you're on your way towards a healthy retirement, then you can start building a strategy to pay down your good debt as long as you are also making what you want from the practice.
Make your decisions based on numbers and logic, not on emotion. Debt might not be fun, but it's a lot more fun than realizing you can't retire until you're 80. If this makes sense, contact us directly. If you're not sure, or need to hear more, download our success kit and we will follow up with your right away.