Client Stories
Our Clients. Their Stories.
Clients from all over the country stop by the Four Quadrants office to tell their stories and talk about how we've helped them with both their practice and their personal lives. Which story speaks to you?
Keep scrolling to see dozens of our Client Stories.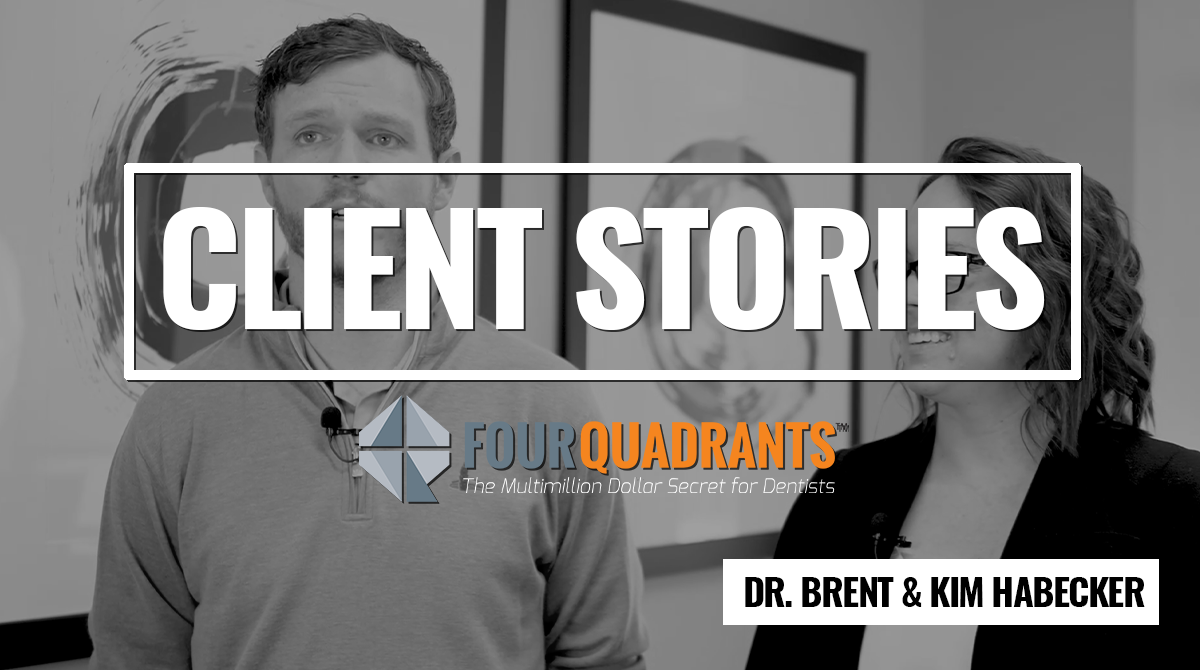 Dr. Brent and Kim Habecker have been clients of Four Quadrants for a little over a year and bring a fresh perspective on the type of positive differences 4Q can make in just 12 months.

Drs. Rob and Linda Pellosie are married practicing dentists who each own and operate their own practice. They discuss how Four Quadrants has helped them achieve their visions and helped them reach new levels of success despite both practices being very different.

Molly and Russ Weiandt come to Four Quadrants and explain how the firm helped them bring home more money and save for retirement.

While visiting Four Quadrants, Dave and Mary Kay Butler visit with us and talk about how they first became our client.

Larry and Suzy Falender think back on the last year of their practice since hiring Four Quadrants to help them save for retirement.

Dr. Ron and Mary Bryant discuss how both their practice and personal life has changed for the better after the began working with Four Quadrants.

Todd and Eric stop by Four Quadrants for their annual meeting and discuss their business from the last year and how we've been an integral part of it.

Dr. Scott and Gail Anderson discuss how Four Quadrants has improved their practice and lives over the last three years.

Drs. Chris and Jill Burns speak on their experience of working with Four Quadrants and how life has gotten that much better.

Drs. Barry Jacobs and Michael Auvinen come Four Quadrants for their annual meeting and sit with us to discuss how their practice has been since hiring the firm.

Andrew and Jen discuss how their relationship with Four Quadrants has greatly improved their business.

Dr. Barry and Cara Webber stop by Four Quadrants headquarters and discuss how our firm has helped not only the practice but their lives in general.

Dr. Mike & Rebekah Glasmeier discuss how they got started with Four Quadrants.

Thomas and Tamma Kennedy of Madison, IN come to the office to discuss their practice and how Four Quadrants has helped them.

While visiting Four Quadrants, Ryan and Martha sit down to discuss their practice, story, and how we've helped their lives.

Jon and Jennifer stop by the office to share a little background on their business and how Four Quadrants has helped the practice.

Robert and Barbara sit down and discuss how amazingly easy Four Quadrants made retiring.

Wes and Tina discuss how Four Quadrants has changed not only their practice finances but the personal finances as well.

James and Michelle stop by to tell their story and how Four Quadrants has upped their retirement game.

The Husemans stop by our office to discuss how they've benefitted both personally and professionally as their relationship with Four Quadrants has evolved over the years.

The Grapevines stop by Four Quadrant's offices to discuss the positive changes in the practice that have occurred since hiring the firm and why they've continued that relationship each year since.

Joe and Cyndi saw a need to better their financial situation and learned all the benefits Four Quadrants provided. Learn their story and how we helped.

Sherry stopped by our office recently for her annual planning meeting and discussed how we've helped her build a practice to last a lifetime.

Dr. Jimmy Sisson and his wife Ambre sit down to share why they returned to Four Quadrants and what's on the horizon for their practice.

Molly and her husband Russ visited Four Quadrants recently to talk about their experience and their results of working with and taking the advice of Four Quadrants.

Dr. Mike Robinson and his wife Connie stop by the Four Quadrants Advisory office for their first annual client review in retirement to share their insights on a super-smooth and drama-free practice transition.

Dr. Ashly and Mike Cothern stop by our office to reflect on how their finances have improved not just in the last year, but since hiring us three years ago.

Dr. J. Scott and Gail Anderson stop by for their first annual review with Four Quadrants Advisory and take a few moments to recount how their first year greatly exceeded expectations.

Drs. Todd Christy and Eric Balsis stop in for their partnership transition meeting and share how Four Quadrants Advisory has played such an instrumental role.

Four Quadrants reorganized Dr. Bob Mattern's accounts, converted underperforming life insurance accounts and found places in his practice that would increase cash flow and swell his retirement accounts.

The dynamic duo, Mike and Rebekah, stop in for their one year review with our firm and share their experience of how practice and personal life has improved in that time.

Four Quadrants worked with Dr. Tom Kennedy to reorganize and consolidate accounts, lower his overhead dramatically, and predict accurately his tax liabilities, so he didn't have to hoard cash or take out a loan to pay the IRS.

Dr. Richardson and his wife Cyndi give us a few minutes during their annual review to reflect candidly on the changes we made as a team this past year and what they look forward to tackling.

Todd and Beth agreed to talk about their success with us over their seven years as a client during an annual client visit to our offices.

Dr. Wes and Tina Booker have been with Four Quadrants Advisory for seven years. They stop by to go over the results of their time with us and plan for year eight and beyond.
START YOUR OWN SUCCESS STORY
Fill out the form below and let us help you get started on a path to success and retire with millions MORE in the bank.
Keep scrolling to see dozens of our Client Stories.